Expert Gutter Repair Services
in Maryland and Delaware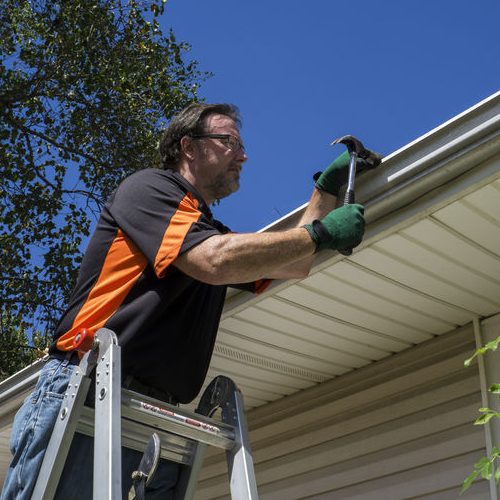 We Repair and Replace Gutters
For most homes and businesses across the country, gutters are the key to effectively collecting and redirecting water away from chimneys, foundations, vents, and windows. Without the help of gutters, water could potentially penetrate residential roofs or even destroy the soil surrounding the home's foundation; this can lead to major structural damage. So if you need gutter repair anywhere near Maryland, and Delaware call +1 (410) 288-1633. Recovery Roofing & Home Improvement, Inc is here to provide you with the most reliable gutter repair and replacement services in town. Whether it's a major or minor issue, we will be able to fix it.
Types of Gutters We Repair and Replace
Deciding on the right type of downspouts and gutters to use on your property requires various components. Adequate experience is also necessary to ensure that the replacement is done the right way. Make sure to only trust the experts when it comes to your gutter replacement or repair. If you are looking to replace gutters in your home, call Recovery Roofing & Home Improvement, Inc. today. There are two basic shapes for gutters: the half-round and K-style.
Half-round gutters are similar to a pipe that has been cut in half and are typically found in older homes. The K-style gets its name from the shape of its cross-section. Traditionally, these types of gutters have flat backs and bottoms and have a front that is shaped like crown molding. Call us for gutter repair and replacement in Maryland, and Delaware today!
Contact Us for Gutter Repair and Replacement
Our contractors will come out to your property and complete a full evaluation of your roofing system and provide you with your best options for your gutter repair or replacement in Maryland and Delaware. We make sure to tailor the gutter system to your home or business. With our assistance, you are in the best hands. You can rest assured that your gutter repair will be handled with care. Contact us to set up your appointment. We promise you that we will never make a move or decision until we discuss it with you first. Contact Recovery Roofing & Home Improvement, Inc. today at +1 (410) 288-1633.